Email marketing is a tried and tested marketing strategy that almost all businesses use in one way or another. And, it is versatile enough to meet numerous marketing objectives, be it lead-generation or retargeting.
However, where most marketers often fail is email tracking. Effective email tracking can give you detailed insights into each email's performance.
Any business that is large enough to send bulk emails normally uses an email tracking and management tool like MailChimp. However, these tools also can't provide as many detailed email tracking insights as you would get by using UTM parameters.
UTM parameters, when added to each email's URL, can provide detailed email tracking and much more detailed insights into your campaign's performance.
But before we get into the details of how you can use UTM parameters for email tracking, let's first understand how you can create and add UTM parameters to emails.
How to Add UTM Parameters to Your Emails
There are basically two ways you can incorporate UTM codes into your emails. The first is by generating a UTM code for each email element and then copy-pasting the code manually. The second way is to use an email marketing tool that automatically creates and adds UTM parameters to your emails.
As different marketers use different email marketing tools, we will not cover details on how to activate the "UTM codes" option for each tool. We will, however, explain how you can add UTM codes manually, for email tracking using UTM.
Here's a simple two-step process that you can follow to add UTM codes to your emails for email tracking.
Generate UTM Codes for Each Link in Your Email
Generating UTM codes is quite simple if you're aware of the various UTM parameters and their uses. UTM codes are basically URLs with UTM parameters added at the end. The most common UTM parameters are the source, medium, and campaign parameters.
However, for tracking email campaigns, you will also need to use the "content" parameter. This will help you create separate UTM codes for different clickable links within a single email.
You can use a tool like UTM.io to create UTM codes. Use these it create custom URLs by adding campaign-specific UTM parameters.
Here's an example of how you can add UTM parameters to create UTM links for your email campaigns using the UTM.io tool.
Let's say that your email has two clickable links that need to be tracked. One is a CTA button and the other is the image. Below is an image of the UTM.io interface with details of which types of UTM parameters you need to fill in to generate a UTM link to track clicks through the CTA button.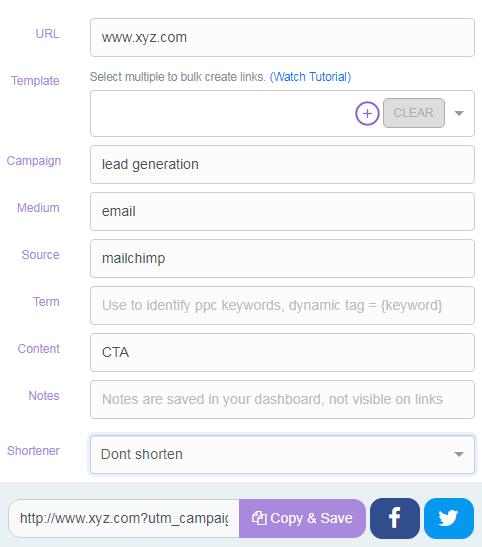 Once you click on "Copy & Save," you will get the UTM tracking link as shown below.
http://www.xyz.com?utm_campaign=lead_generation&utm_medium=email&utm_source=mailchimp&utm_content=CTA
This link shows that it is for a MailChimp email lead generation campaign and tracks the number of people who clicked on the CTA button within the email.
Add the UTM Codes to the Respective Links
After you have created UTM codes for each email element, all you need to do is copy and paste it to replace the original link with the new UTM link.
You can follow the same process for adding any other links to your emails by replacing the actual links with the newly-generated UTM links.
How to Use UTM Parameters for Email Tracking and Performance Measurement
Once you have added UTM links to your emails, you can do detailed email tracking even at an individual link level. You can measure the performance of your email campaigns, compare your emails with other sources of traffic, and how each email has performed.
Here are some of the ways you can utilize UTM codes for email tracking and measuring the success or failure of your emails.
Compare the Performance of Different Channels
You can do this by visiting your Google Analytics dashboard and selecting the "channels" report under the "traffic" tab in the sidebar. This report will show you all sources of traffic for your website, including traffic being driven by emails.
There, you can compare your email campaigns with other sources of traffic to see how well or poorly they are performing.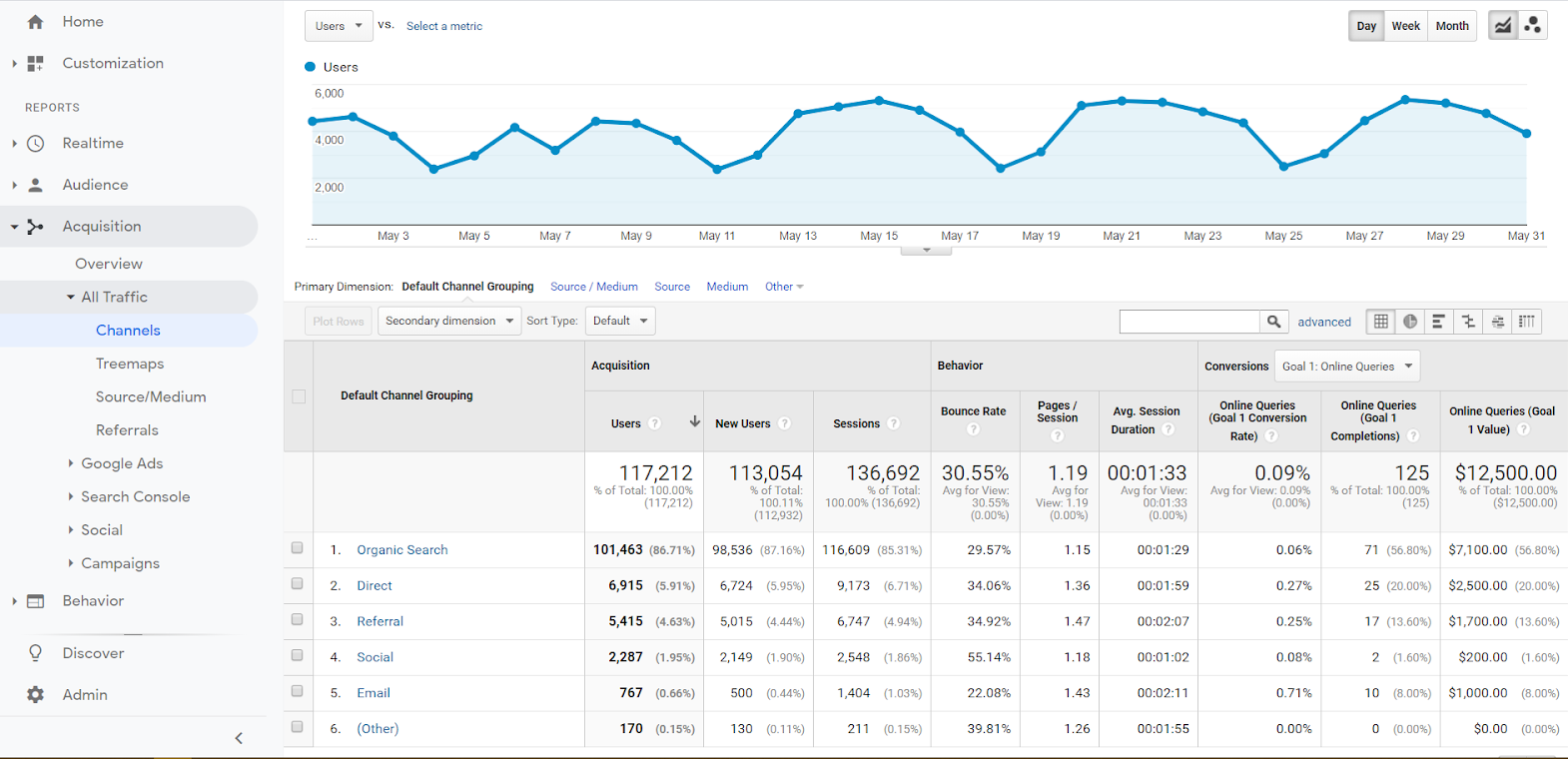 Image Source: Google Analytics
This will be a broad-level comparison that tells you which sources are bringing the highest amount of traffic and how your email campaigns are faring. This will not, however, provide you with any detailed insights into your email campaigns. For that, you will have to dive a bit deeper and look at your campaigns report.
Compare the Results of Various Campaigns
To access your campaigns report, click on "email" from the channels report and then choose "campaigns" as the primary dimension.
This report will show you the results of all of your email campaigns from a single dashboard to allow for easy comparison. You can check metrics like the number of site visits (sessions), website visitors (users), new users, bounce rate, etc. for each campaign.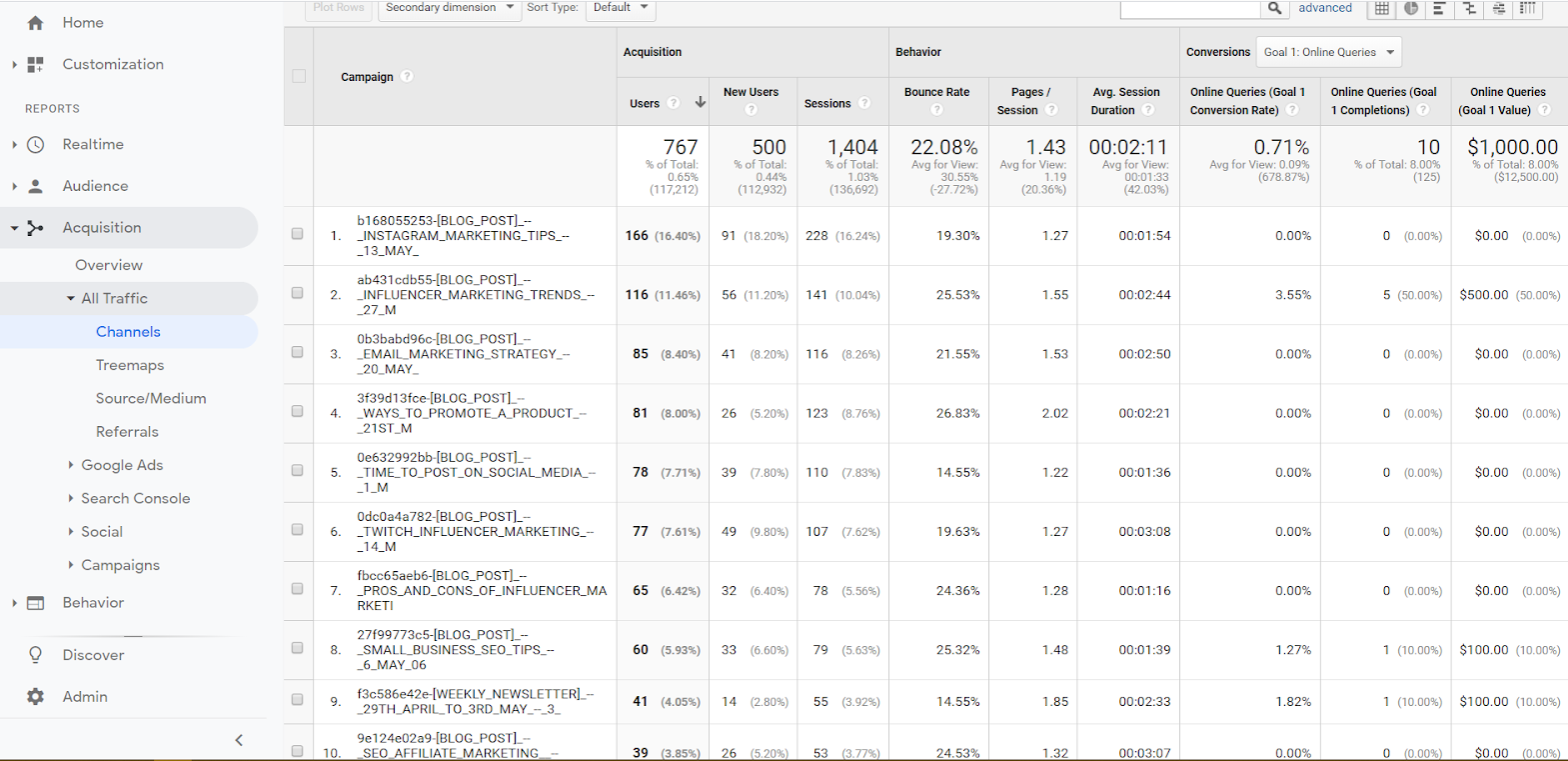 Image Source: Google Analytics
Thus, you can not only measure the traffic that each campaign is driving but also how successful it is at engaging users.
What's more is that, if you have enabled "goal tracking" in your Google Analytics, then you can also see how many conversions you got from each campaign. This is a valuable insight that informs you which campaigns are doing better than the others.
Measure the Performance of Each Email Campaign in Detail
Email tracking using UTM codes also has the added advantage of telling you exactly which email and even which link in an email got the highest number of clicks. This level of insights is not obtained using any other form of email tracking.
You can also get insights into your key audience demographics, and get a better picture of who you're targeting.
You can also use other email tracking metrics like open rates, which basically shows how many people actually opened your email. Then you can check the click-through rate, which shows the number of clicks on the links included in a particular email.
The final email tracking metric to look at is the conversion rate for each individual email to see which ones got the best success rate.
Conclusion
Email tracking is a best practice that all businesses should follow, whether you have a large or small business. If you're running email campaigns, you need to be able to measure how they performed. This will help you improve your future email marketing strategy as email tracking provides you with insights into what works and what doesn't.
And, using UTM parameters for email tracking is one of the best ways to track your email campaigns. This is because it takes email tracking to the next level by providing detailed insights at a granular level.
Use this post as a guide on how to add UTM parameters to your emails for email tracking and performance measurement.
Also, feel free to comment in the comments section if you have any doubts or questions.