Email continues to be among the most powerful marketing channels to drive traffic and sales. With that said, some marketers may be struggling to understand exactly what kind of impact their email marketing efforts have yielded.
It becomes even more confusing when you're simultaneously running multiple marketing campaigns because you need to understand which campaigns are delivering and which ones aren't. You can't just attribute a boost in traffic to your email marketing campaign, because some of the traffic may be coming from your other campaigns like social advertising or SEO.
This makes it crucial for marketers to understand the most important email marketing KPIs to measure the impact of each email and each campaign. Take a look at these vital email marketing KPIs you should not ignore:
#1: Delivery Rate
Identifying how many of your emails are reaching your subscribers will give you a realistic understanding of how your emails are performing. This makes email delivery rate an important email marketing KPI. Not all of your emails will get delivered because of inactive/nonexistent email addresses or even because of a low sender reputation score.
A study conducted by Return Path found that delivery rate increases along with an increase in sender score. Those with a sender score between 91 and 100 have a 91% delivery rate on average. But senders with a score of 21-40 only had a delivery rate of 8%.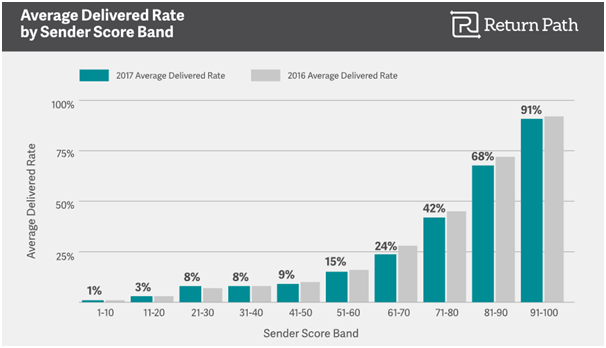 Image Source: Return Path
So if you want to get the most out of your email marketing campaigns, you need to make sure your emails are actually reaching your recipients' inboxes. You can use the Return Path Sender Score tool to assess your sender score and get suggestions on how to improve it.
#2: Bounce Rate
To get an even more accurate picture of your email deliverability, you should also include bounce rate among your top email marketing KPIs. Bounce rate refers to the number of emails that go undelivered.
There are two types of bounces you should consider – soft bounce and hard bounce. Soft bounces occur due to temporary, resolvable issues like a full inbox, a service issue, etc. So try to resend your soft-bounced emails for increased deliverability.
Hard bounces are a result of inactive or invalid email addresses, suggesting the need to clean up your mailing list.
#3: Unique Open Rate
Unique open rate helps you get an idea of how many recipients are interested enough to open your emails. This makes it one of the most important email marketing KPIs to track if you want to understand how your campaigns are performing.
It's crucial that you have a realistic understanding of what a good email open rate looks like so you can set realistic benchmarks for yourself. You can't expect a 100% open rate or even a 50% open rate. Most people don't even have a 25% open rate, according to the MailChimp Email Marketing Benchmark report. The average open rate across all industries was 20.81%.
This is a little bit higher than the ConstantContact analysis, which found that the overall average open rate for all industries was 16.74%. Campaign Monitor even found that average open rates vary by day of the week. So consider all of these factors and your industry average to see where you stand in terms of average open rate.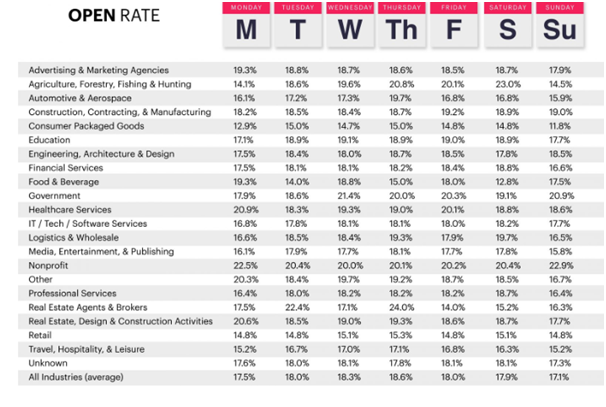 Image Source: Campaign Monitor
#4: Click-Through Rate
Do people just open your email and leave it at that? Or do they read through it and actually click on your link to visit your site? Your click-through rate helps you understand just how well people are engaging with your emails. This makes it one of the most important email marketing KPIs to track.
Like with the previous KPI, you should have a realistic understanding of what a good click-through rate looks like.
The MailChimp study found that the average click rate across all industries was 2.43%. The ConstantContact study put it at 7.43%, which is much higher than the findings in other studies.
The Campaign Monitor study found that the average click-through rate varies by day of the week. But it never went over 3% at any time of the week.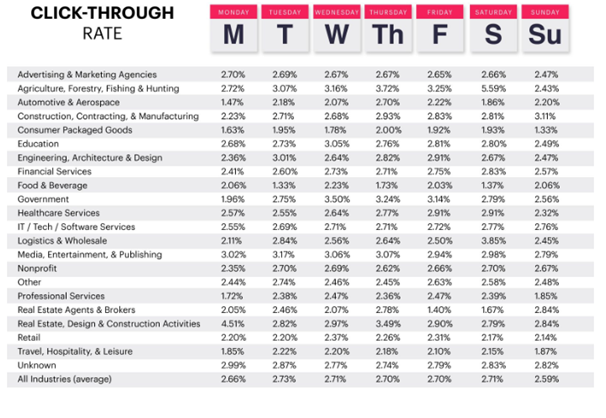 Image Source: Campaign Monitor
#5: Site Traffic
Site traffic is an important indicator of how your email marketing campaigns are performing. You need to get an accurate idea of how much traffic your campaigns are driving to your site and landing pages.
But if you're running multiple marketing campaigns or testing out different emails, you should definitely use UTM parameters to track the individual performance of your emails and campaigns.
You can use UTM.io's UTM creation tool to neatly organize all the tagged links you've created so you can easily keep track of which links belong to which email.
#6: Time on Site
Not all of the traffic coming to your site will stay long enough to develop an interest in your products, not to mention convert.
That's why time on site is one of the most important email marketing KPIs to get a complete picture of how much impact your emails are making. It's an indicator of how much time people are spending to engage with your website content after clicking on your email.
#7: Conversion Rate
How many conversions does your email marketing campaign actually generate? You should consider your conversion rate as one of the critical email marketing KPIs because it helps you understand whether or not you're achieving your goals. Measure the percentage of people who visited you landing page through your email and completed a desired action.
#8: List Growth Rate
Every email marketing campaign requires a healthy mailing list to succeed. So a growth in your mailing list is a positive sign that your efforts are working. But if you're losing subscribers, it's a sure sign that there's something wrong with your approach.
Besides this, it's only natural that you will lose subscribers over the years and you will need to replace them. Closely monitoring your list growth rate becomes a necessity if you want to keep executing successful email marketing campaigns.
#9: Unsubscribe Rate
Your unsubscribe rate is an equally important email marketing KPI as your list growth rate. It's a clear indicator of how many people find your emails annoying or irrelevant. You could include a short form to understand why people are unsubscribing from your list so you know exactly what you need to improve.
The unsubscribe rate isn't typically very high for most businesses and hardly ever exceeds 1%. The average unsubscribe rate for all industries stood at 0.02%, according to the Constant Contact study.
But it's a bit higher in the Campaign Monitor study, which found that the average unsubscribe rate was 0.17%. You should compare your unsubscribe rate with the industry average to see where you stand.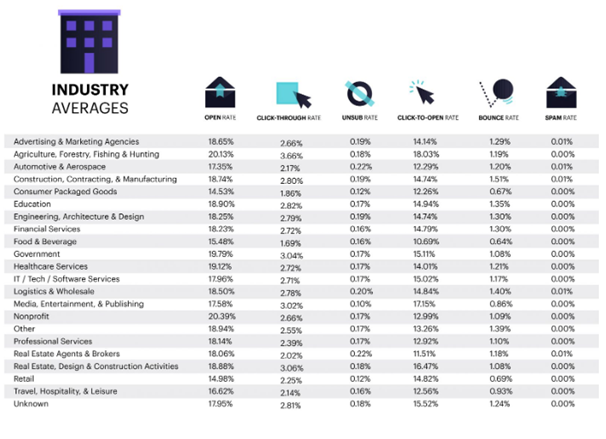 Image Source: Campaign Monitor
#10: Spam Complaint Rate
The spam complaint rate is one of the scariest email marketing KPIs. Not only does it affect your current email marketing performance, but it could also have a long-term impact on your future campaigns.
A high spam complaint rate could significantly decrease your email deliverability because email service providers will start flagging your emails as spam if there are too many spam complaints. Most industries have a spam complaint rate of 0.01% of lower. So anything higher than this is cause for alarm, signifying the need to optimize your emails for trust.
You'll typically need to write better email subject lines and avoid spammy words. You might even need to change your email frequency and see whether you can lower your spam complaint rate by sending emails less frequently.
#11: Email Sharing Rate
Email sharing rate is an indicator of how many people find your content useful and decide to share it with their friends. The more people forward your emails to their friends, the more you can grow your database.
Monitoring this email marketing KPI can help you understand what type of email content people love the most. So you can optimize your email marketing strategy accordingly, and by using the right email monitoring software, you can keep an eye on your performance on a regular basis.
Final Thoughts
There you have it – 11 crucial email marketing KPIs that can help you gain valuable insights on how your emails are performing. Use them to identify which types of emails, subject lines, offers, etc. are delivering the biggest impact.
Do you use any other email marketing KPIs besides the ones above? Let us know in the comments.