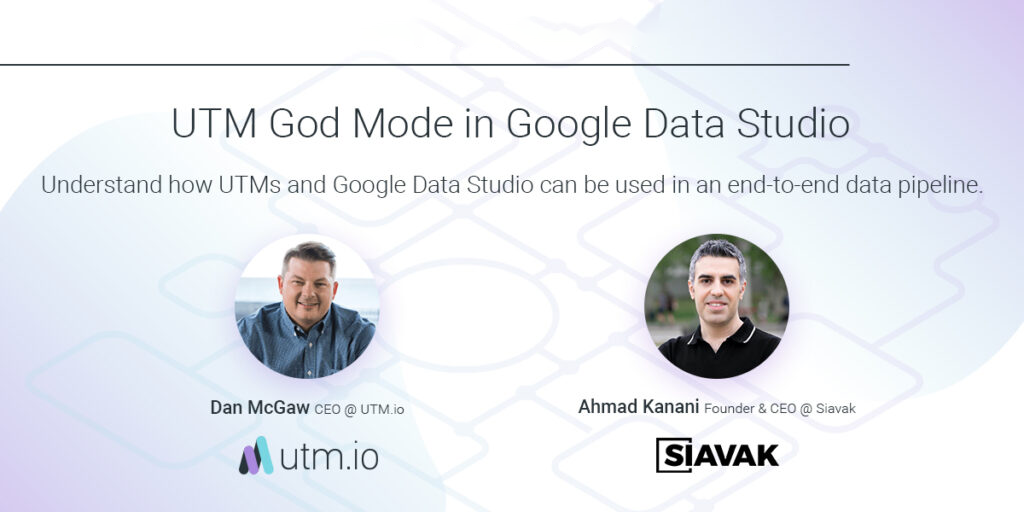 In this webinar, we will talk about the foundations of UTM conventions and how they can be extracted downstream in Google Data Studio to build end-to-end data pipelines.
UTM tagging, combined with Google Data Studio, can lend a comprehensive view of how your various campaigns perform individually and as a part of any number of customizable groupings. 
What you'll learn:
Understand how UTMs are used in an end-to-end data pipeline
Learn how to structure UTM values in a way that offer the most flexibility when reporting and analyzing
Learn how Google Data Studio can help expand the number of UTMs from 5 to 10 or more with a simple strategy in using utm_content, and in an automatic and well-structured way. 
Learn how Google Data Studio can help clean-up, group, and categorize UTMs even if the perfect naming convention hasn't been followed at the time data collection
Presented by Dan McGaw, CEO of UTM.io and McGaw.io
Dan McGaw is an award-winning entrepreneur and speaker. He is the founder and CEO of UTM.io, a UTM spreadsheet killer, and data governance tool used by Shopify, Unilever, Taxjar.com, and more. Named one of the godfathers of marketing technology and one of the original growth hackers, Dan has decades of experience. Before founding UTM.io, Dan succeeded Neil Patel as the head of marketing at Kissmetrics and since then has gone on to start multiple successful ventures in the marketing analytics industry.
Presented by Ahmad Kanani, Founder of Siavak Analytics and Data Studio Academy
Ahmad is the founder and head of analytics at Siavak Analytics, a boutique analytics agency based in Budapest that helps ambitious online businesses leverage better data to support data-driven strategic decision making. Since 2017, Siavak has helped its clientele create systems and data pipelines using Google Marketing and Cloud Platform to collect, process, report, and analyze data for more than $1 Billion in combined revenue across online and offline channels.
He is also the founder of Data Studio Academy where he teaches Google Data Studio from beginner to the advanced level to help agencies and digital marketing professionals leverage this free but powerful tool in their business.