With 2.77 billion people using social media worldwide, it is crucial for brands to tap into its immense marketing potential. However, too often marketers are running campaigns without specific goals or a means to measure them.
For social media success, you first need to define your marketing goals. Make sure that the goals are specific, measurable, realistic, and time-based.
For example, do you want to acquire new customers? Make more money? Grow your followers on social media?
Let's take a look at a few actionable social media marketing goals that brands of all shapes and sizes aim to achieve. We'll also discuss how to measure each one of them.
#1. Increase Brand Awareness and Visibility
Increasing brand awareness is the top priority of 80% of social media marketers. It is crucial to the growth of your business.
Social media is the perfect platform to get your brand in front of thousands or millions of potential customers. The more that people know about your business, the greater the chances of you converting them into customers.
Building buzz around your brand might take a bit of experimenting. You should fine-tune your profiles, create engaging content, and play with your captions and hashtags. You can also leverage influencer collaborations to get more exposure for your brand.
Consider using a tool like Modash, which has an influencer discovery platform to help you filter & find the right creators for your brand.
The key performance indicators (KPIs) that can help you track improvement in brand awareness include:
Brand mentions (tagged and untagged)
Reach
Impressions
Shares
Follower count
Use of your branded hashtag
Most social media platforms provide their own analytics to help you track various brand awareness metrics easily. You can monitor your follower count, mentions, and the reach, impressions, and shares of your posts directly.
Social listening tools such as Brandwatch and Mention can also help you track who is talking about your brand on social media.
Fashion brand, ASOS, uses #asseenonme to reach bigger audiences, increase brand awareness, and encourage user-generated.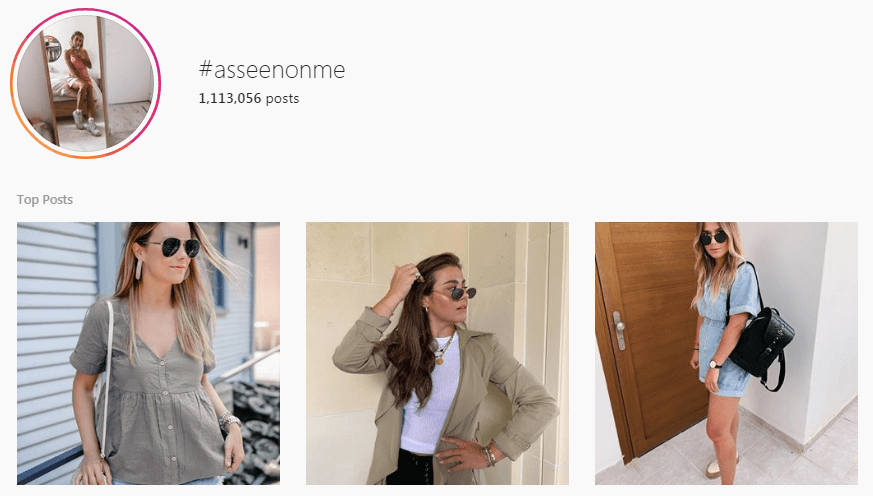 Image via Instagram
#2. Boost Engagement
Having a large number of followers isn't enough. You need to encourage users to engage with your content if you want to connect with your target audience.
It is only when you truly engage with your potential customers that they are likely to trust your brand and consider buying from you.
A few metrics that can help you track engagement include:
Likes
Comments
Shares
Retweets
Audience growth rate
Click-throughs
Brand mentions
Engagement is often calculated by the percentage of people who chose to interact with your content after seeing it.
Engagement = Total engagement per post / Reach per post * 100
You can use Facebook Analytics, Twitter Analytics, and Instagram insights to track engagement on individual posts and overall profile.
Social media marketing tools such as Buffer and Hootsuite can also help you track engagement rate and filter your most engaging posts by platforms.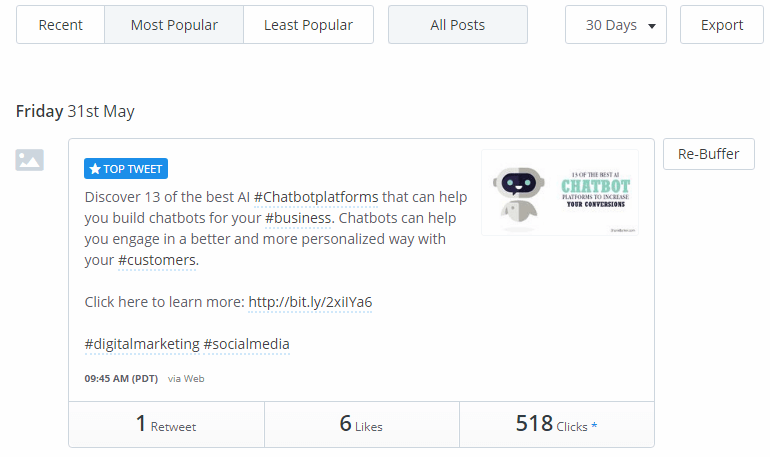 #3. Drive More Traffic to Your Website
Another important social media marketing goal is to drive visitors to your website. However, it is not only about driving traffic. You need to focus on generating traffic that is relevant and which can lead to conversions.
Here are a few KPIs that can help you track how many users visit your website:
Social media traffic
Click-through-rate
The best way to drive more traffic to your website is to create engaging content. You can share your blog posts on social media with captions that compel users to read more.
Along with the big giants such as Facebook and LinkedIn, you should also contribute to communities and forums such as Quora.
Pinterest is also a great platform to share visual content from your blog. Visual content is more likely to get shared on social media than other types of content.
It is easy to track social media traffic through your Google Analytics dashboard.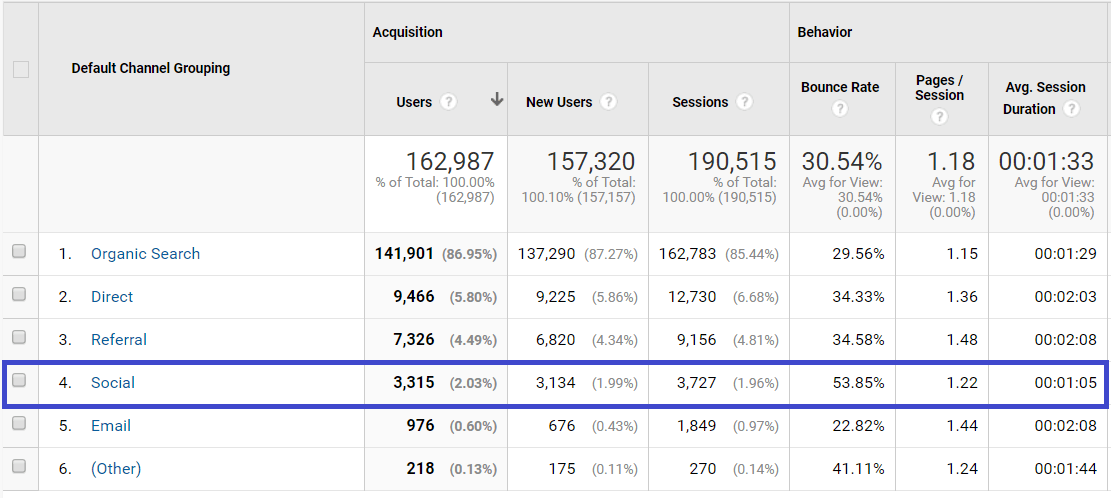 You can also leverage paid social ads with impressive CTAs to convince your audience to click-through to your website.
Tools such as UTM.io enable you to create unique UTM links for each of your social media posts or ads. You can then track data to see which posts or ads drive the maximum referral traffic to your website.

#4. Generate More Leads and Sales
The ultimate goal of any marketing campaign, including social media marketing campaigns, is to generate revenue. For this, you need to engage potential customers and finally, get them on the path to buying from you.
You can track your social media lead generation efforts using metrics such as:
Clicks
Cost-per-click
Downloads of gated content
Personal information collected such as email addresses
Conversion rate
Google Analytics is a powerful tool to track conversions. You can set conversion goals and then review reports by visiting Acquisition > Social > Conversions within Google Analytics.
Another way to track the leads and sales generated through social media is to use custom UTM codes.
The famous watch brand, Daniel Wellington, partners with numerous social media influencers to increase sales. They also offer unique UTM promo codes to give discounts and track the performance of individual influencers.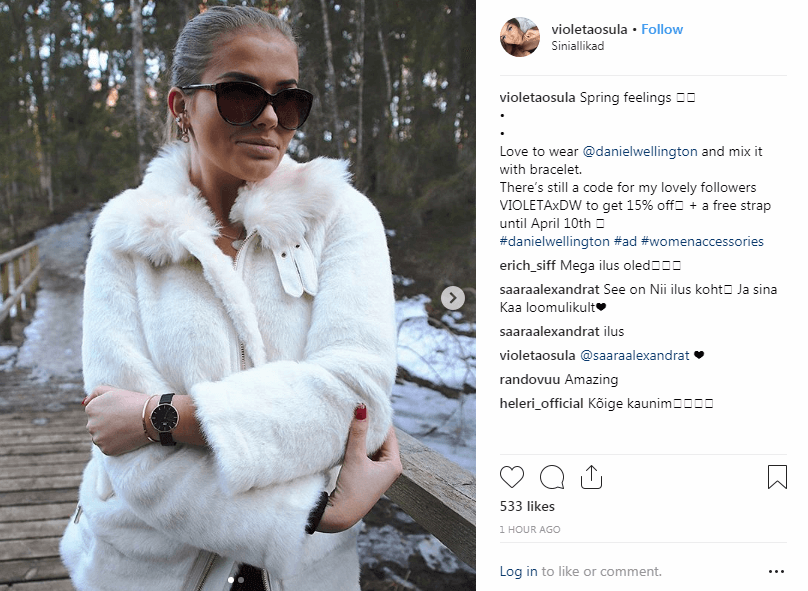 Image via Instagram
Tracking these codes helps the brand to monitor if an influencer is worth their advertising budget.
#5. Build Trust and Credibility
Building and maintaining a good brand reputation is another important social media marketing goal.
For people to buy your products or services, it is important for them to trust your brand. They need to see you as someone who is reliable and is more likely to provide good quality products, services, and customer support.
A few KPIs that can help you analyze your overall brand reputation include:
Brand mentions
Positive sentiment/reviews
Customer satisfaction
Social share of voice
Along with promoting your products/services, you should focus on creating educational content that can help your potential customers. This type of content goes a long way in establishing you as a thought leader in your industry.
When people like your brand and the content you create, they're more likely to endorse your brand within their circles. You can measure improvement in your brand image through social listening.
Social listening tools can help you figure out who is talking about your brand and what they have to say about you. Positive social sentiment signifies that you're doing good.
#6. Improve Customer Experience
Providing good customer support on social media can actually make a difference in the trust they have for your brand. It can help you improve your customer satisfaction score, retain customers, and increase revenue.
Many brands leverage Twitter effectively to answer questions and provide solutions to their customers' problems.
Nike is one such brand. They have a dedicated Twitter account to improve customer experience. People look to them for a helpful answer every time they face an issue with their products.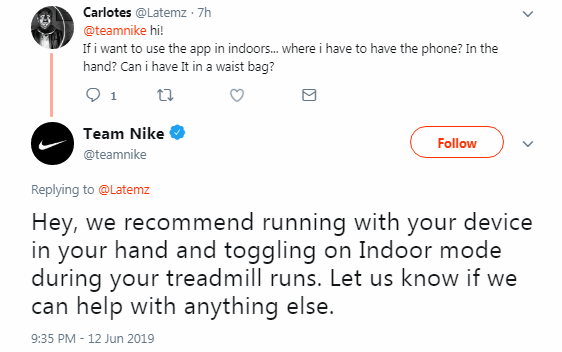 Image via Twitter
Some metrics that can help you analyze the quality of customer satisfaction include:
Number of support questions
Average response time
Positive social sentiment
Customer Satisfaction Score
You can use CRM tools like Salesforce and Agorapulse to improve your social media customer service and track results.
Increased customer satisfaction can also help you enhance the overall reputation of your brand.
Conclusion
If you want your social media marketing campaigns to be successful, it is important to set and measure goals. You should associate each of your goals with appropriate KPIs to track the effectiveness of your marketing efforts.
Consistent monitoring can help you ensure that you are going in the right direction. It can also help you drive the maximum ROI from your campaigns and avoid pitfalls.
So, what are you waiting for? It's time for you to reevaluate your social media marketing goals and KPIs.
If you have any questions, please feel free to discuss in the comments below.