You have probably read tons of articles advising you to advertise on social media because "it's effective." While there's no doubt about its effectiveness, do you have any idea how social media advertising really impacts your business? What are the actual benefits of social media advertising and how do they influence your business goals?
In this post, you'll learn about 11 of the biggest benefits of social media advertising. This will help you understand exactly why you should invest in it and how you can leverage it for your business.
#1: Improves Brand Awareness
One of the most obvious benefits of social media advertising is its impact on brand awareness. It helps you reach people who aren't following your brand on social media, many of whom may have never heard of you before.
In fact, it's because of social media advertising that brands are getting 3X more traffic from non-customers than customers via social media.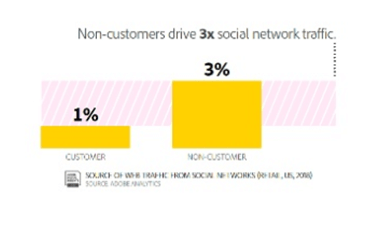 Image Source: Slideshare
Without advertising, there aren't a lot of ways that non-customers and non-followers can learn about your brand. The most effective way to reach them and increase brand awareness is by targeting them in your social media ads.
For instance, MAGGI CukupRasa managed to increase brand awareness by 5% after running a series of Facebook ads. Brands like ONYGO saw an even better result with Instagram ads, which helped them gain an 11-point lift in brand awareness among their target audience group.
#2: Helps You Reach a Targeted Audience
Social media platforms have a robust set of targeting options, giving you the ability to narrow down on the most relevant audience groups. On Facebook, for instance, you can target users based on demographics, interests, behavior, and connections.
Each of these targeting options can be further broken down into more detailed factors, which you can combine to reach a highly specific audience group. For example, under the location-based targeting options, you're not just limited to targeting people in a certain location.
You can target people who have recently visited the location, are currently living in the location, or are traveling in the location. You can also target people based on life events, political affiliation, pages they like, apps they use, and more.
Brands that run social media advertising campaigns are able to reach a high percentage of their target audience. S7 Airlines, for instance, managed to reach 60% of their target audience through Instagram advertising.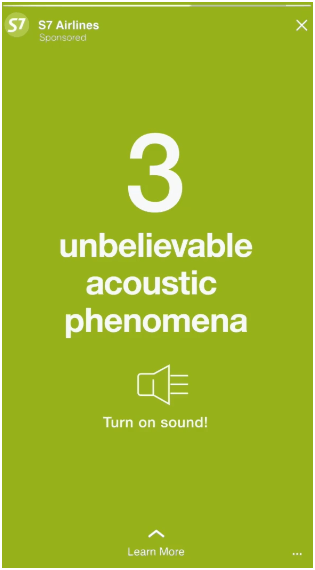 Image Source: Instagram
#3: Drives Quality Traffic
With more people learning about your brand, it goes without saying that social media advertising will also increase your inbound traffic. The best part is that since you'll mainly be reaching a highly targeted audience, the traffic you attract will be of high quality.
Whitfield School experienced this social media advertising benefit when they ran an eight-month campaign. They saw a 95% increase in website visitors and an increase in website sessions of almost 90%.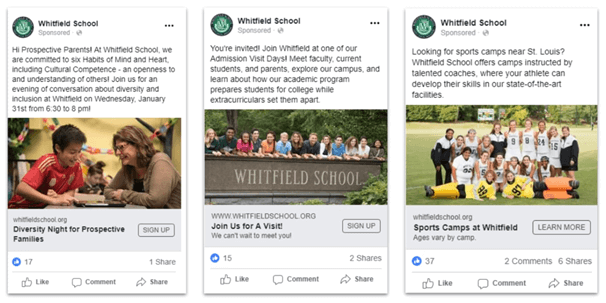 Image Source: Finalsite
Waterdrop also experienced a significant increase in traffic to their website after running Stories ads on Instagram. The ad reached 1.8 million people in just 10 days – a 6X increase compared to the previous month. The company's website visitors also increased 8X during this period.
If you're running multiple ads using different ad creatives, you can accurately track the impact of each version by using UTM parameters. When you assign a UTM parameter for each version of your ad, you'll be able to understand what works best on your target audience. This will help you optimize your ads for future campaigns.
This may seem challenging since it's not very easy to create UTM links without a bit of technical knowledge. The good news is that you can use UTM.io to easily create UTM links in just a few steps.
You just need to enter the important details about your campaign such as the URL you want to tag, your campaign name, medium, and source. And the tool will automatically create a tagged URL, which you can shorten before using.
#4: Increases Foot Traffic
The benefits of social media advertising aren't just limited to digital traffic and awareness; there's also the fact that it increases in-store traffic. While you can track the digital traffic and conversions coming straight from your ads, that doesn't give you a complete picture of how your ads are performing.
Some social media users may have seen your ad and learned about your products, but they may not make a purchase right away. They may want to wait till they can see and feel the product in real life before they decide to buy it. So when they do convert, the credit still goes to your social media advertising efforts.
In fact, a Curalate study found that 21% of consumers bought a product later in a physical store after seeing it in a brand's social media post. Carrefour, the French supermarket chain, experienced this benefit first-hand when they launched a campaign in Italy. 285,000 people visited the brand's stores after seeing an ad on Facebook.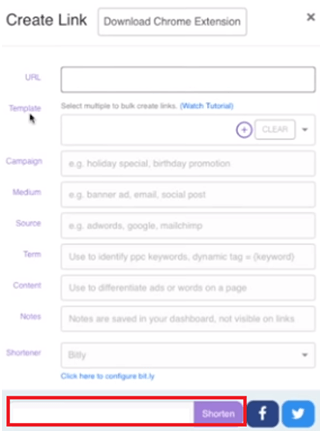 Image Source: Facebook
#5: Improves Content Visibility
Social media advertising allows you to promote your brand's content instead of blatantly promoting your products. You can pay to promote blog posts, videos, or other content that you've already published on your brand's social media profiles. So it improves your content visibility and engagement.
This can help you attract a big and relevant audience to your blog posts and brand resources as well as your social media pages. It's a great way for B2B brands and brands that want to establish value and credibility via content marketing to promote their business. It's extremely beneficial for companies that want to gain more visibility for their YouTube videos as well.
Scott Ayres of Post Planner, for instance, boosted one of his Facebook posts using just $20. The post reached almost 4,600 people while his page didn't even have 1,000 likes at the time. It also generated quite a bit of engagement, not to mention 22 new page likes.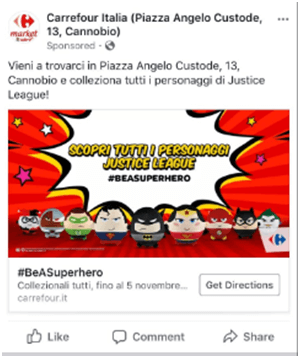 Image Source: Post Planner
#6: Reduces Marketing Costs
Although you do have to spend money on social media advertising, it can help reduce your overall marketing costs with its accurate targeting capabilities.
You won't be showing your ads to everyone or to people who vaguely fit the characteristics of your target audience. You'll only be showing them to the most relevant social media users who are most likely to be interested in your products or services.
In other words, you'll be spending your money only to reach the most relevant target audience. This means you'll be getting more ad clicks that result in a conversion. So you're not wasting a lot of money on clicks that do not lead to sales.
In addition to this, social media advertising allows you to experiment with lots of ad placements and formats. Testing out these various options will help you uncover the most profitable and cost-effective advertising option for your brand.
In the case of paysafecard, for instance, ads in Instagram Stories cost 76% less for each conversion when compared to the company's annual average.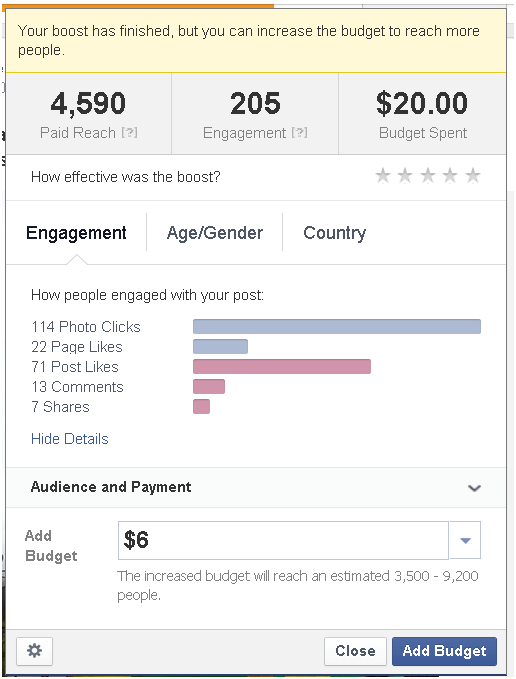 Image Source: Instagram
Appsee saw a similar outcome when they ran a social media advertising campaign on Instagram Stories. Their cost per qualified lead was 25% lower and there was a 2X decrease in cost per click with Stories ads.
But these results aren't just limited to Instagram or its Stories ads. MINI Korea ran a video social media advertising campaign on Facebook. The brand saw an impressive decrease in overall cost per engagement compared to their previous campaigns. The cost per reaction decreased by 34%, cost per comment by 66%, and cost per share by 58%.
#7: Better Brand Recall
You can tell how impactful a campaign is, not by the way it drives direct conversions, but by the way it influences people. A memorable ad campaign could have a lasting impact on your audience. So even if they don't convert right away, your brand would be the first on their mind when they're in the market for a product that you sell.
This is where you can enjoy another benefit of social media advertising, as it generates a significant lift in ad recall. This means that it improves the chances of people recalling your brand and your ad campaign when they're in the market for products similar to what you sell. This also improves your chances of finally converting them into paying customers.
Even if it took a while for them to convert, what matters is that they ended up converting days or even months after seeing your ad on social media. So in the end, your social media advertising effort paid off in the long run and got you a new customer.
Walkers, a British snacks manufacturer started running Instagram ads to promote the brand's new chip flavors. There was a 5-point lift in message association with the campaign slogan "feast for the senses." The brand also saw a 14-point lift in ad recall after launching the campaign.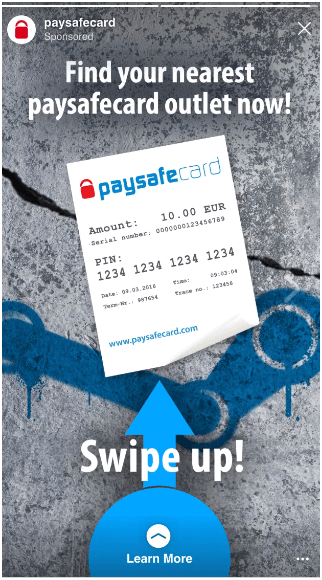 Image Source: Instagram
eSpoir also experienced an impressive increase in ad recall rate after they ran Facebook video ads to promote their new line of products. In addition to a 28.5-point lift in ad recall, the campaign also resulted in an 8-point increase in purchase intent.
#8: Increases Conversion Rates
After seeing all of these other benefits of social media advertising, there's no doubt that it will also impact conversion rates. Since you're reaching a bigger, more relevant audience and driving high-quality traffic to your site, you will also see an increase in your conversion rates through social media advertising.
With the ability to narrow down on the most relevant audience, brands have been able to use social media ads to attract people with a high chance of converting into paying customers. This is bound to improve their overall sales and conversion rates.
In fact, SOSO Life, a Korean low-calorie food brand managed to drive a 20% increase in sales through Instagram ads, when compared to their previous campaigns. Out of these total sales, 80% came directly through Instagram ads.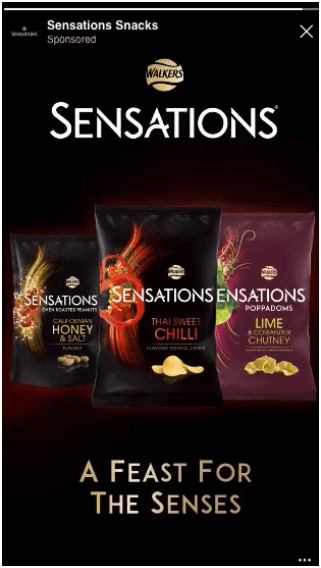 Image Source: Instagram
Felissimo, the Japanese online marketplace, also experienced an impressive lift in their conversion rates with Facebook advertising. They launched dynamic ads to reach a broader audience, which resulted in a 65% increase in conversion rates.
#9: Improves Brand Credibility
One of the best things about social media advertising is that it isn't just limited to paid ads on social networking platforms. Working with social media influencers is another form of social media advertising that yields remarkable results. While influencer marketing on social media can improve brand visibility and drive sales, one of the biggest benefits is that it can improve brand credibility.
Social media influencers have built loyal fan bases through their expertise within a particular niche. People look up to them as experts and trendsetters in that niche. They look to them for advice and purchase recommendations. So when an influencer vouches for your brand, it automatically establishes a certain level of trust in your brand.
A brand that a credible influencer vouches for will automatically be seen as trustworthy. People will be more willing to spend their money on your products because an influencer has advertised them for you.
While some people may worry that paying an influencer to promote your products will affect people's trust in their brand, that's not always the case. A CPC Strategy survey found that 22.9% of consumers will still trust a paid recommendation from an influencer. 44.2% said that their trust in the advertising depends on how much they already trust the influencer.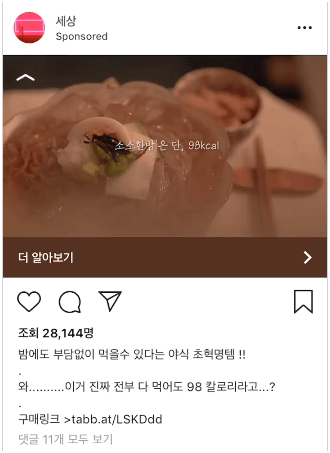 Image Source: CPC Strategy
In addition to social media advertising via influencers, sponsored content can also help brands establish themselves as thought leaders and a credible source of information. Leading brands like Adobe have run sponsored post campaigns on platforms like LinkedIn.
Marketing decision makers who were exposed to the sponsored content were 50% more likely to believe that Adobe was "shaping the future of digital marketing." They were also 79% more likely to believe in Adobe's ability to optimize their media spend. These numbers clearly prove that sponsored content can help you build credibility in the eyes of your target audience.
#10: Helps Build a Strong Social Presence
Social media advertising puts your brand's social media profiles in front of the right people. So it's no surprise that one of its many benefits include helping you build a strong social media presence. When more people notice your ad, it'll bring them to your brand's social media page or have them engage with your ad content.
Both situations will boost your social media presence. In the first situation, you could gain new followers who are interested in your content and/or products. In the second situation, you're getting significant engagement on your content, which is essential for a strong social media presence.
Eastspring Investments used LinkedIn to experience this benefit of social media advertising. The company used dynamic ads and sponsored content on the platform to reach a highly relevant audience. As a result, they managed to increase their follower base by 20% and attracted followers who fit their target audience profile.
Twitter Promote Mode is another social media advertising option that has helped brands like Buffer boost their social media presence. This option involves paying a flat fee so that Twitter can automatically promote all of your tweets for a 30-day period. Buffer tested it and reached 28,686 people through 170 promoted tweets.
They attracted more than 230,000 profile visits and gained 34 new followers during the test period.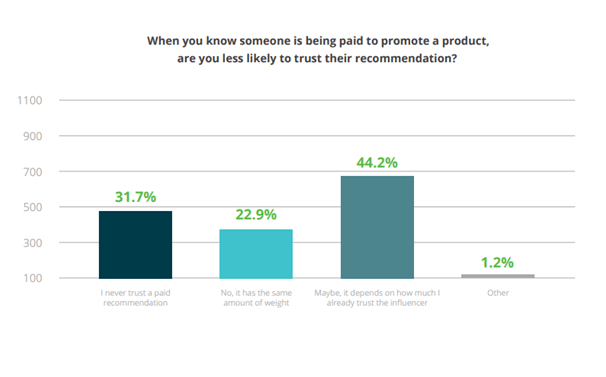 Image Source: Buffer
#11: Provides Valuable Customer Insights
One of the biggest benefits of social media advertising is its ability to provide you with highly valuable customer insights. Social media platforms have a robust collection of user data – right from demographics and interests to behavioral data. Running an ad campaign further provides you with more accurate insights based on how people interacted with your ads.
The most engaged audience groups give you an idea of what your target audience should look like. These are the people who are most receptive to your brand and are most interested in your products. Look for their shared characteristics to build a robust set of buyer personas that are extremely relevant for your brand.
You can use these insights to optimize your campaign. Or you can even use them to build an even more effective social media advertising campaign that delivers much more impressive results.
D+AF, a Taiwanese shoe brand, wanted to increase sales in the Chinese-speaking market and break into the English-speaking market. So they ran a dynamic Facebook ad campaign, targeting people based on their browsing history on and off the platform. They also retargeted users who have shown an interest in the brand by visiting their site without buying anything.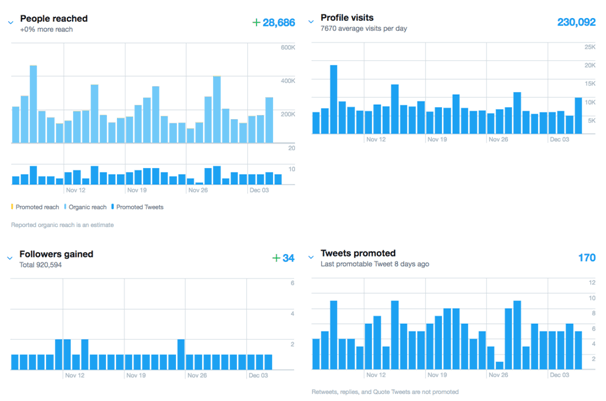 Image Source: Facebook
The campaign resulted in a 6.6X increase in daily orders in the Chinese-speaking markets, and a click-through rate of 2.3%. Their cost-per-mile in the same market also reduced by 41% compared to the final quarter of 2017.
Final Thoughts
Now you clearly understand 11 of the best ways in which you can benefit from social media advertising. Every business in every niche and vertical can enjoy these benefits of social media advertising with the right campaign tactic, ad placement, format, and creative.
What's most important is tracking the results of your campaign to see what's working and what isn't. This will help you discover ways to optimize your future campaigns for even better results.
Have you experienced any other benefits of social media advertising other than the ones listed here? Share them in the comments below.