Messy UTMs are a major hurdle to actionable reporting. UTM spreadsheets often do not solve the problem — because they get messy, too.
Those of you serious about reporting need a tool that's built for the purpose of building consistent and advanced UTMs across your team. 
Build UTMs like a Pro
Use the tool for consistent and fast team workflows
Going from a UTM Spreadsheet to a UTM Tool
We're happy when teams come to us and they already have a spreadsheet they've been using. A UTM spreadsheet is better than nothing. A formula will speed up the link building, you can force simple rules such as all lowercase, you'll have a list to go into and check the links.
But, we recommend the UTM.io tool as a much better solution. We've seen too many teams think they can rely on UTM tracking sheets, and get disappointed shortly after. That's because:
The formula that generates your link should not be editable by some of the team members with edit access to the sheet, e.g. some of your juniors or consultants
The more links you put in, the messier the UTM generator sheet gets. You want to avoid this type of discouragement.
9 in 10 spreadsheets contain errors. Every spreadsheet that gets edited by multiple people over time gets messy, and you've probably experienced that the errors are hard to catch. In marketing reporting, this leads to flawed attribution data.
For consistent tagging, you need UTM building rules in your workflow. And you need the rules to be more automated than what a spreadsheet formula can do. For instance, you need a way to give a particular team member a predefined list of options for a UTM parameter.
Say No to a Messy Spreadsheet, Say Hi to a Dedicated UTM Generator Tool
Allow yourself to live the life of campaign data that's both clean and nuanced. It'll be a life of smooth workflows, consistency in how links are tagged, management hours saved, accurate and actionable reporting, and campaign improvements that get you promoted.
Sounds too good to be true? It isn't. You can actually sign up for it here.
If you still feel married to your UTM spreadsheet, try and answer the question — do you know of a UTM spreadsheet that can do the following?
Enforce Lowercase, or Get Rid of Spaces
Prevent Becky in advertising from accidentally putting an uppercase G in source=Google. Or Bob, the new intern, from using spaces instead of dashes.
Make it easy for new team members to avoid mistakes
Achieve the consistency you need to make UTMs valuable


Automatically Fetch Attributes
Brand, date, region, or other data points can make it into your UTM naming convention automatically.
Speed up your workflow
Use the same attribute across parameters and links
Give team members a head start on each link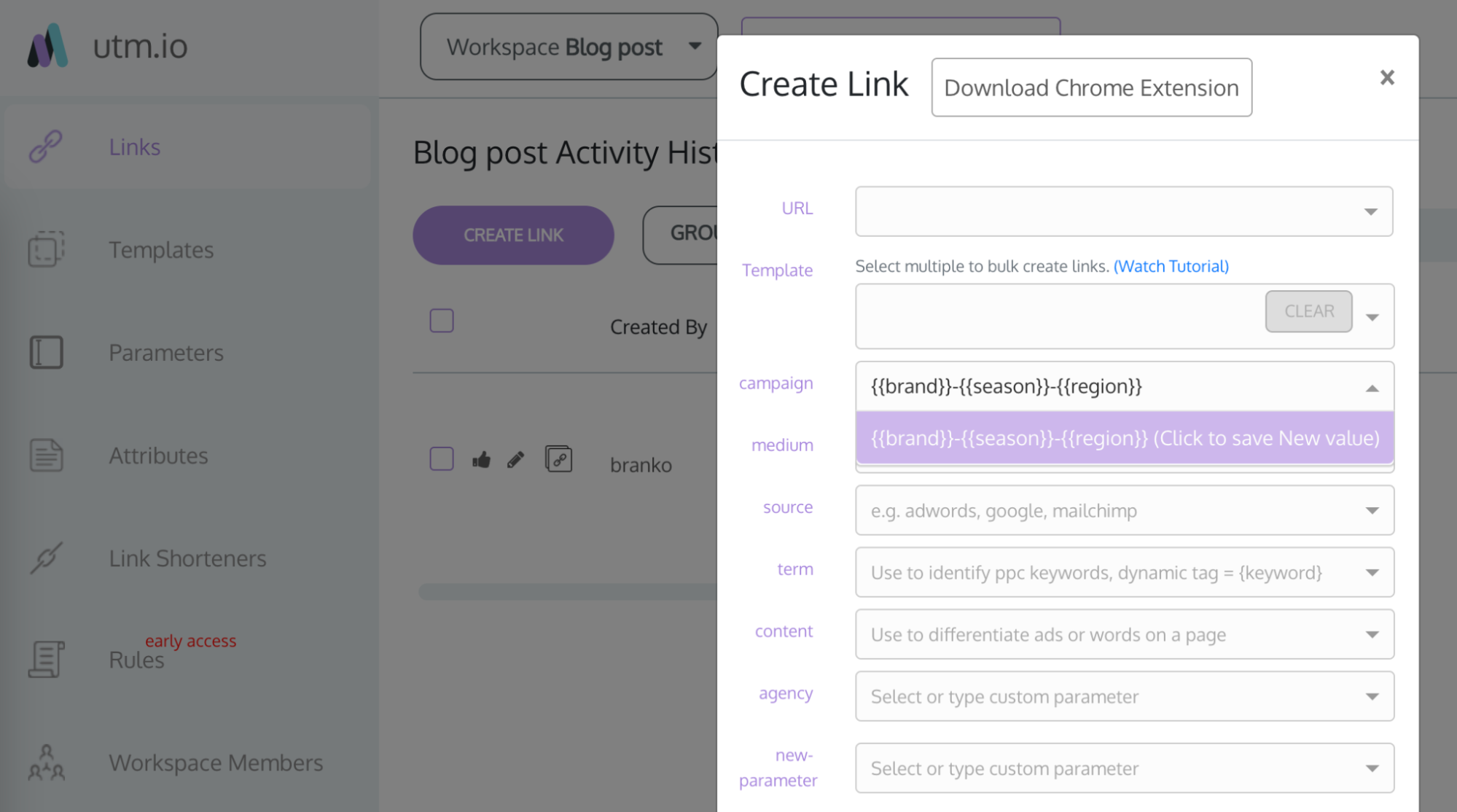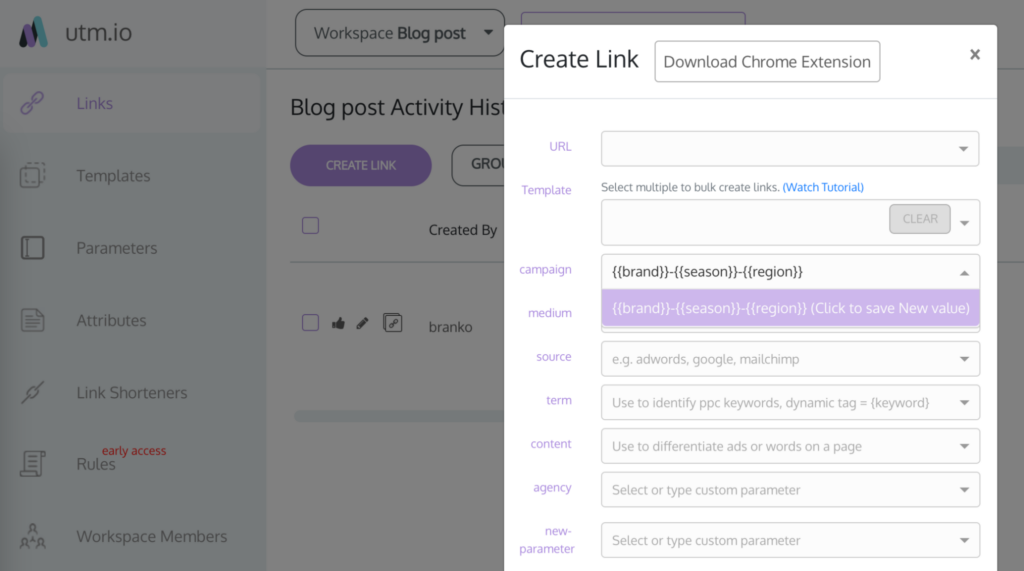 Predefine Parameters to Standardize the UTMs
Setting lists of parameters for your team to choose from will help everyone create UTMs that are much more consistent.
Set reasonable constraints for your team members
Enable your team to easily follow UTM best practices
Reinforce your UTM naming convention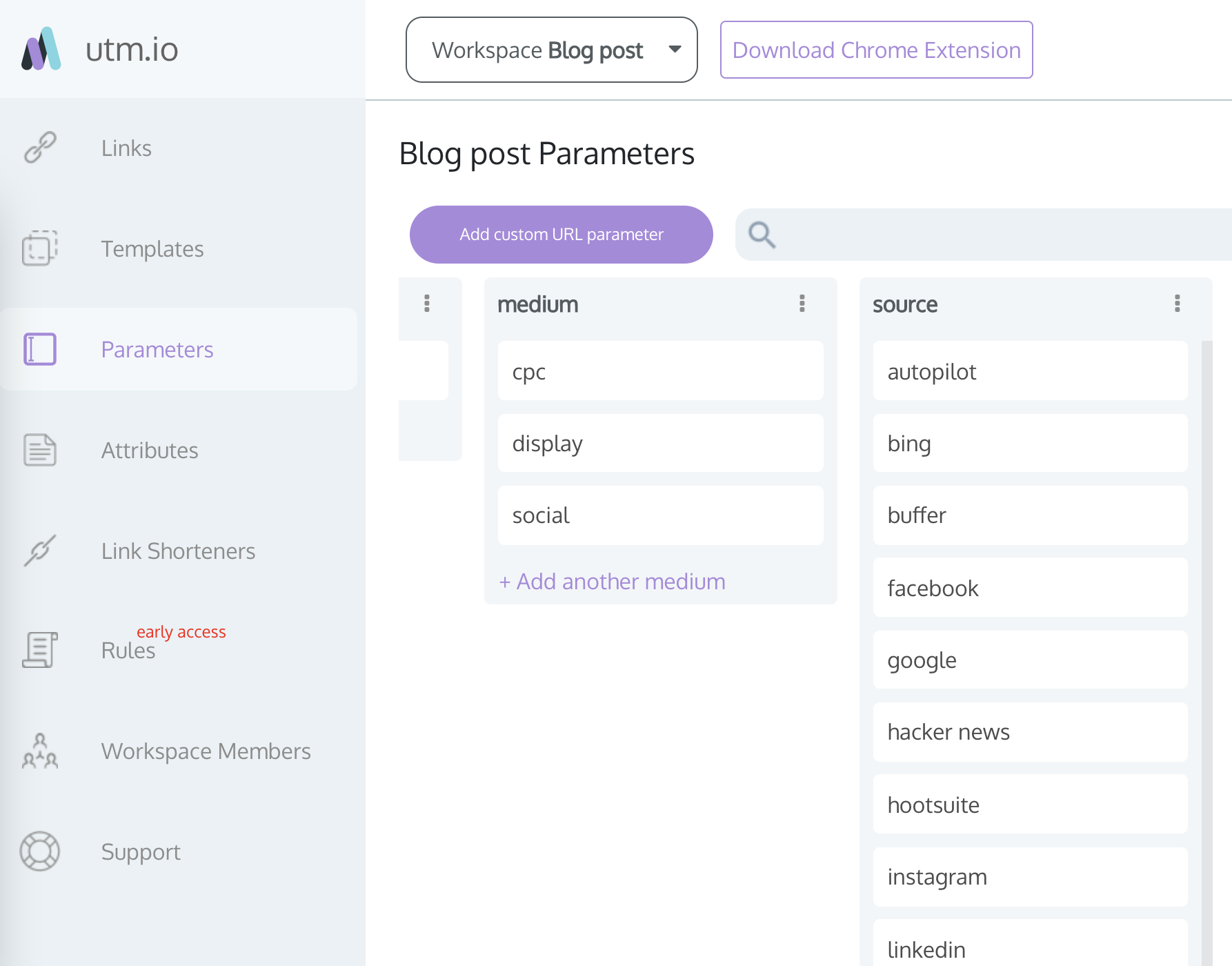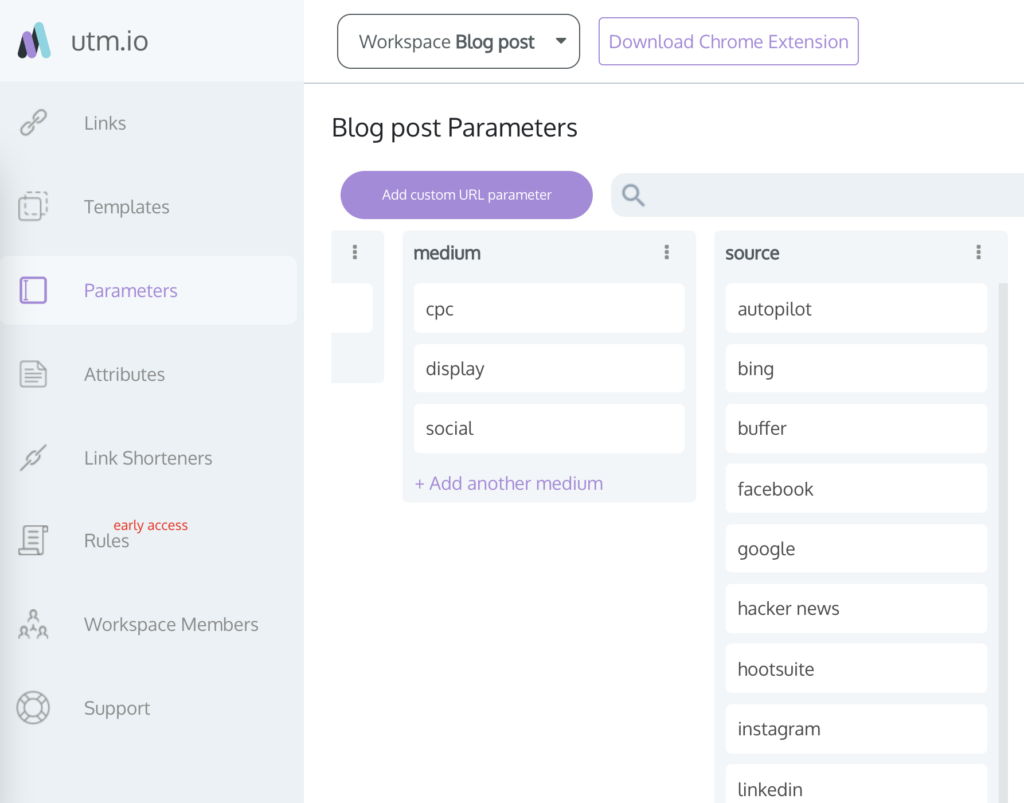 Shorten Your Tagged URL with Your Own, Branded Domain
Using your own brand in the shortened links, instead of bit.ly or similar, looks better and gets you more clicks.
Appear more trustworthy and professional to your audience
Increase the CTR of your links
Increase the share of tagged traffic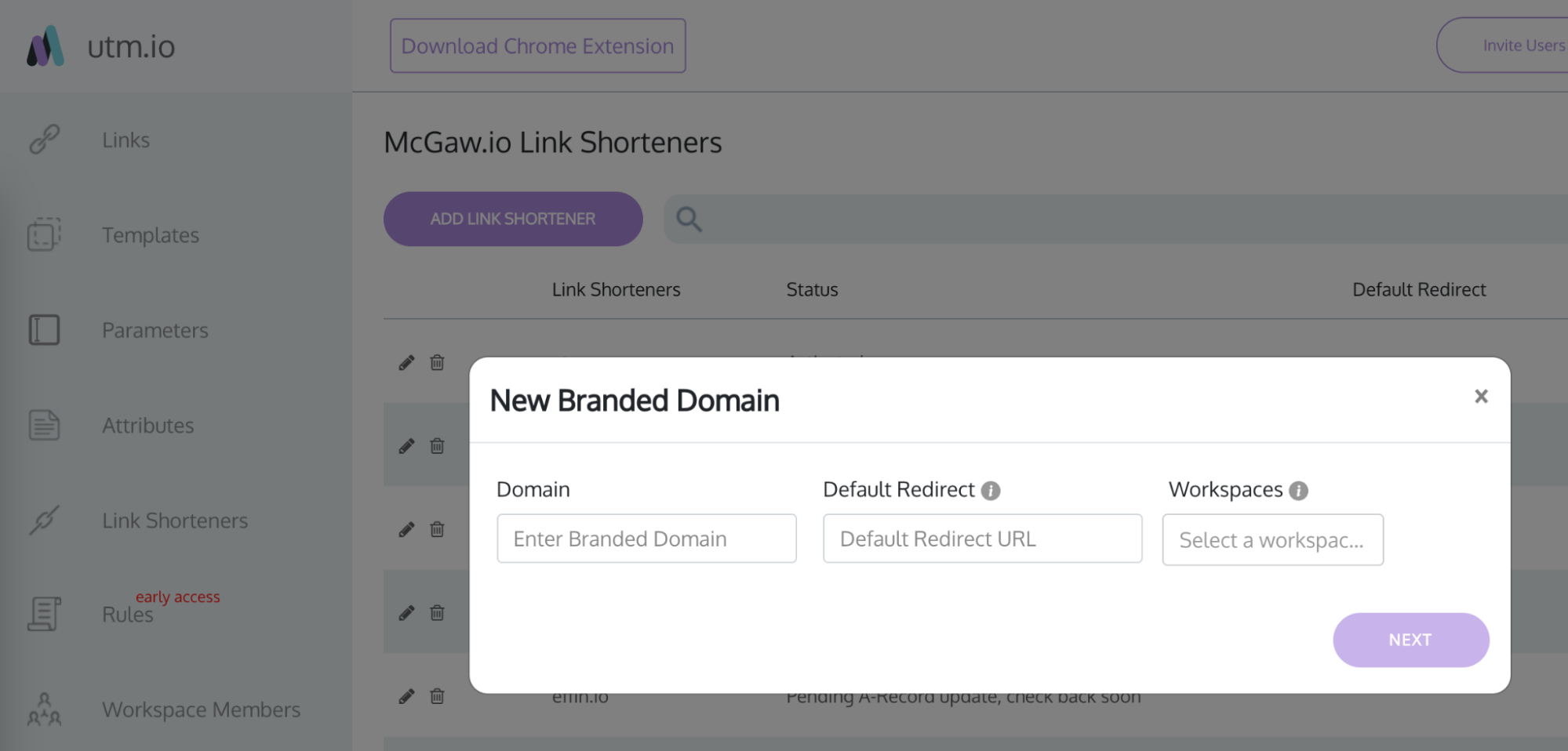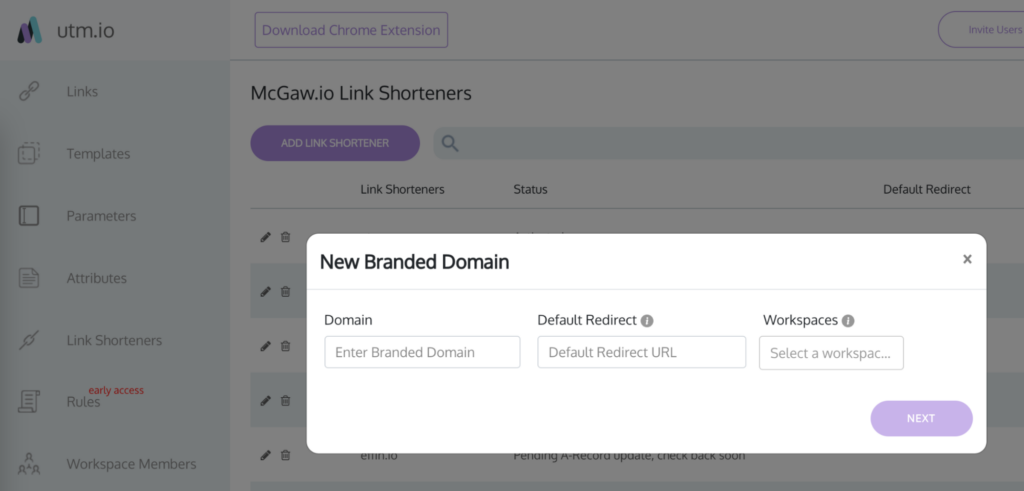 Create UTM Links with a Dedicated Chrome Extension
With the Chrome Extension by UTM.io, you don't even need to copy the link anymore or fill in some of the other key fields. UTM creation gets fast.
Save one step in your UTM creation, every time
Enjoy uninterrupted workflow
Use all the advanced features without leaving the page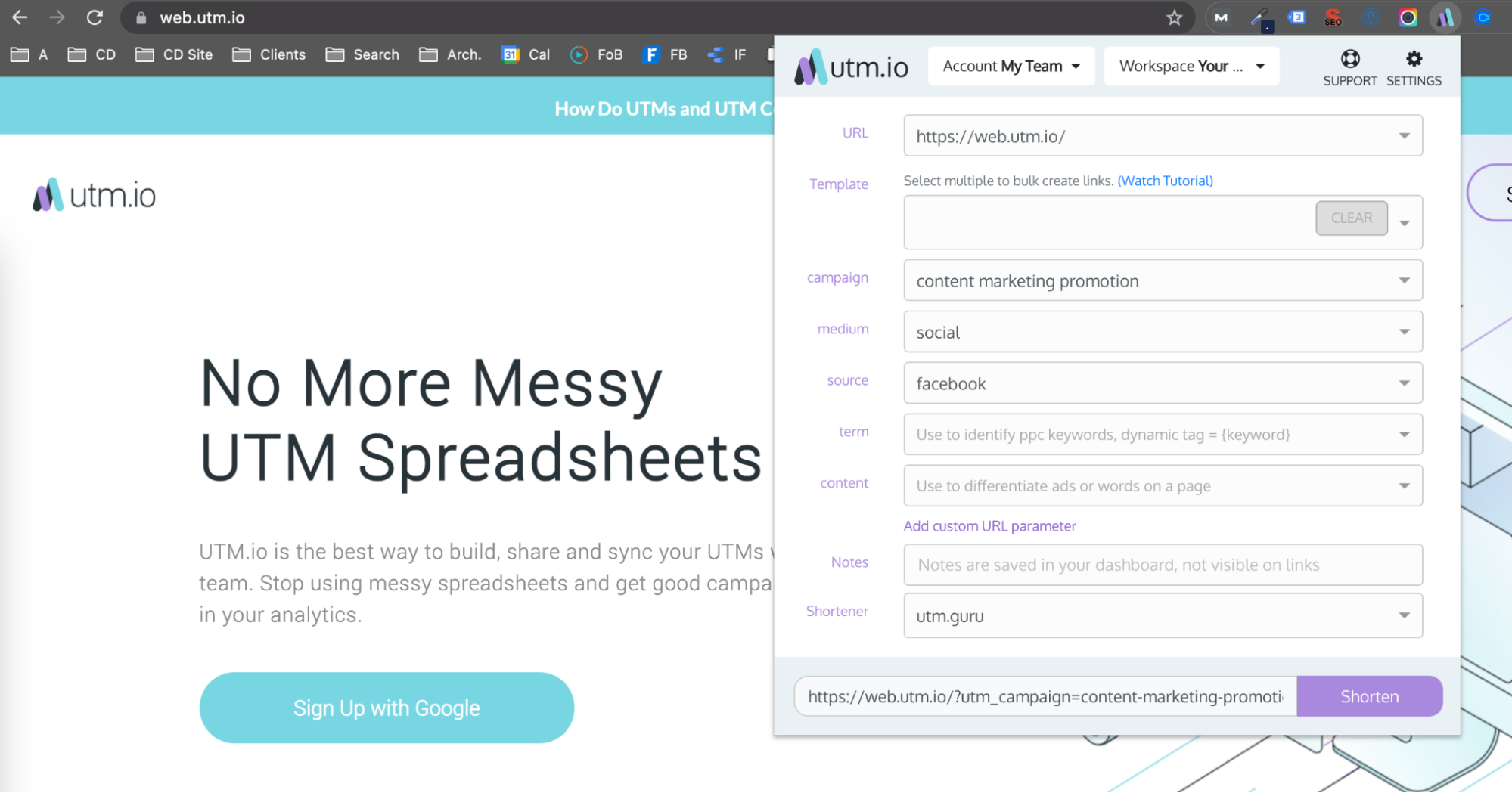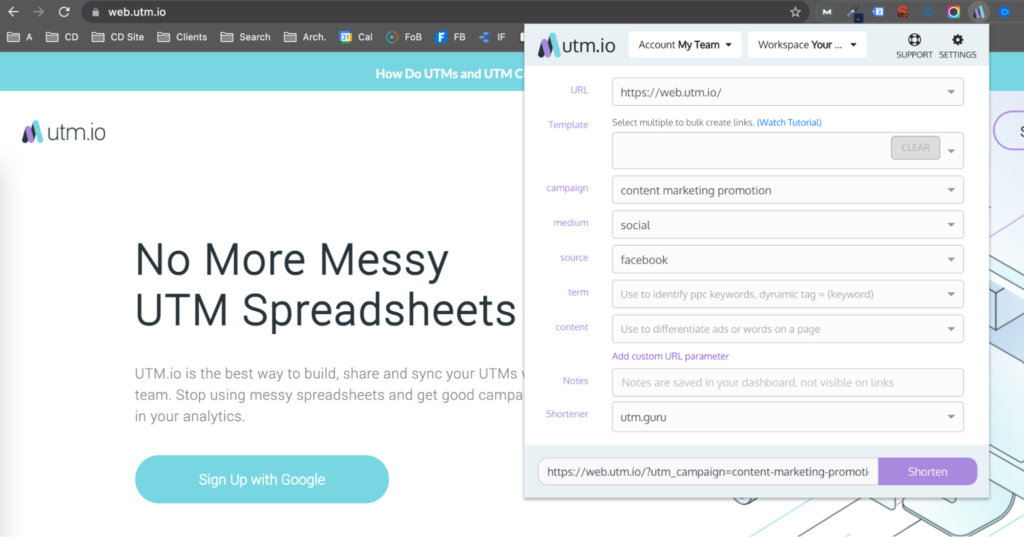 Create Separate Workspaces
Give each department and team access to specific campaigns with their own unique rules, permissions and history. Or separate your own projects to stay super organized.
Keep your links and team organized
Easily maintain different naming for different projects
Limit or assign access as necessary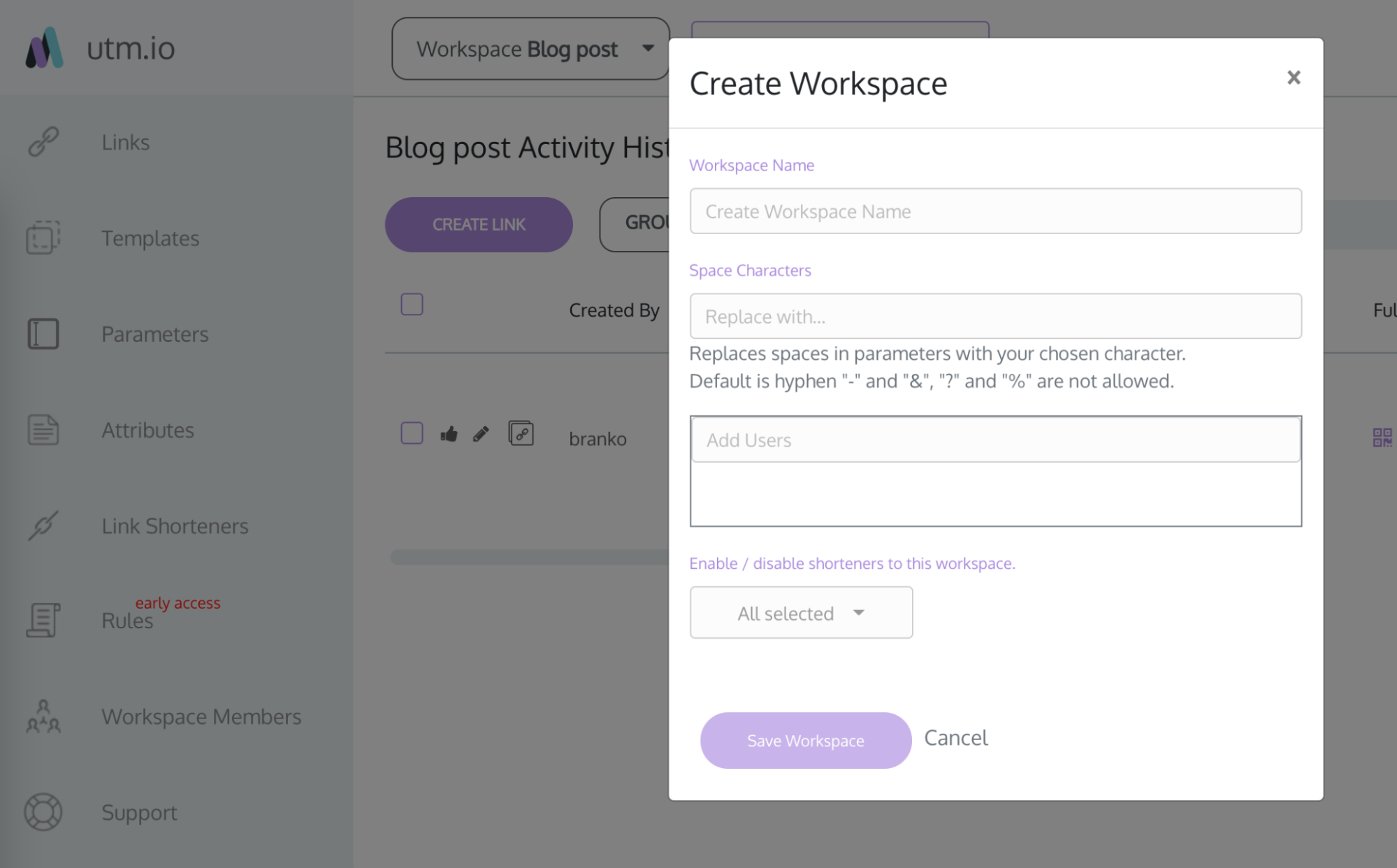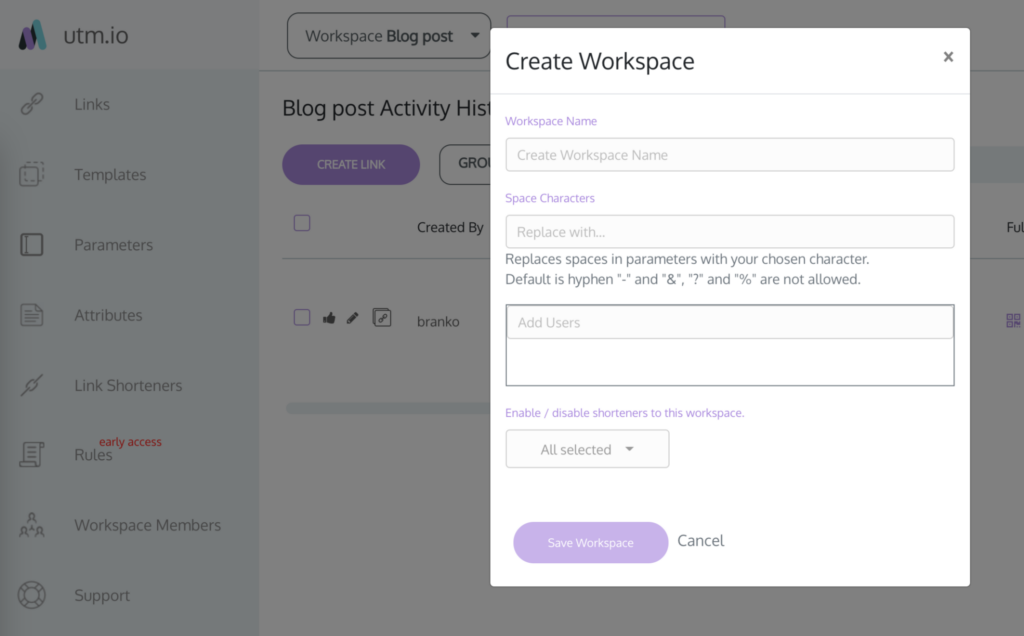 Say No to Messy Spreadsheets and Boost Your Team's Results
We see UTM.io users build UTMs faster, with more frequent uses of advanced naming conventions. Complex taxonomy becomes easier to manage, and leads to new nuanced campaign data in GA or other analytics tools. When new team members enroll, there's a system for keeping UTMs consistent, and the adoption of UTMs is easier. Less time is spent on tedious tasks, more time is spent on analysis that drives action.
We recommend you try it for yourself.
Boost Your Team's UTM workflow