A successful customer journey guides potential users through stages of awareness and education that are designed to ensure that their buying decisions align well with your product, service, or solution.
Each stage builds on the last and provides new insights that nudge the potential customer along. During the journey, it's crucial to get feedback to improve the process in the future and to ensure that your product is the best fit for your customer.
Let's take a look at how you can develop and track customer journey.
1. Setting Up The Journey
Before you can assign goals and metrics, define the stages in the customer journey for your business using buyer personas. Based on the type of business you run, the number of stages of the customer journey may vary.
Based on your buyer personas, you'll be able to understand the process which your customers will go through. These steps will help you determine the stages of your sales funnel. By understanding these stages, you'll be able to improve their user experience too.
These stages can be broadly classified into Awareness, Research, Choose, and finally, Purchase.
Image via Vendasta
Also, while your customers may have a single final goal, there may be micro-goals that they achieve at each stage of their journey. To track the customer journey, you need to find out these goals and align them with each stage.
You can use multiple data sources, such as surveys, interview transcripts, and customer service emails for this. By aligning these goals with each step of the journey, you'll be able to figure out if your website helps your customers achieve each of their goals.
Some of the questions that you can ask for this are:
How did you hear about us?
What made you visit our website?
How much time do you usually spend on our website?
What was your deciding factor, if you have purchased from us in the past?
Did you require customer support at any point? If so, how well did we fare on a scale of 1 to 5?
Do you have any suggestions about how we can make your shopping process easier and quicker?
2. Find the Touchpoints
Once you've set up the customer journey, you need to find the points where your customers interact with your brand. These points are called touchpoints and it's there that you help them accomplish their goals, and thus, these points define your user experience.
By mapping these touchpoints, you can monitor the customer journey as well.
You can also group the touchpoints for each stage of the customer journey to get deeper insights. Your first touchpoint will, of course, be your website.
To measure its effectiveness, you'll need to monitor the sources of your traffic. For this, you can embed UTM parameters in your URLs. Using these parameters, you can track the traffic coming in from each URL of your campaigns.
However, if you've got too many campaigns running simultaneously, it can be quite a task to handle multiple UTM codes. In such a situation, a tool like UTM.io is ideal. It helps you monitor your UTM codes easily. Creating UTM codes becomes simple using its UTM builder too.
The other possible touchpoints can be product pages, contact forms, pricing pages, and more. To identify these touchpoints, you can use Google Analytics. There are two reports that you need to refer to – the Behavior Flow report and the Goal Flow report.
The Behavior Flow report shows how your website visitors move from one page to another. This can help you find the pages that visitors want to visit on your website. These are your touchpoints. You can even segment your traffic to analyze specific steps of the customer journey.
The Goal Flow report, on the other hand, helps you find out if your customers are completing the goals that you've set. Through this report, you'll be able to find if the visitors are leaving your website in the middle of the customer journey.
3. Mapping Your Customer Journey
The best way to monitor the customer journey is by creating a visual map. All of the touchpoints need to be listed on this map too.
You can create a simple customer journey map on a spreadsheet. The map is essentially a grid with columns representing stages of your customer journey and the questions, customer goals, touchpoints, and actions as the rows.
Here's how you can do the mapping of your customer journey: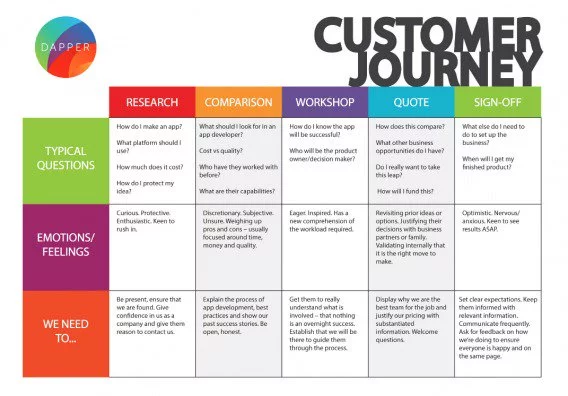 Image via HubSpot
Create columns for each stage of your customer journey and list them down.
Below the stages, list all the possible questions that a customer may ask during each stage of your customer journey.
Under the questions, you need to list the customer's goals. This can help you connect the questions to the goals directly.
Next, you should list all of the touchpoints involved in each stage of your customer journey below the customer goals.
Lastly, add all of the actions that you'll take for each stage to help your customers reach their goals.
By mapping your customer journey, it becomes easier to follow it. At the same time, you'll know exactly where a customer currently is and what you need to do to push them to the next stage.
4. Check if Customers are Reaching Their Goals
The next step is to check if your customers are achieving their goals on your website. You can utilize the data from the Google Analytics reports for this. These reports will help you identify the roadblocks that your customers face during their journey.
You should put effort into finding out the reasons behind your customers deserting their journeys. This can be done by going through the qualitative research you conducted to map out their personas. Each persona will have a different reason for ending their customer journey, and by finding these reasons, you can fix them. You could also use the customer journey map to zero in on these issues.
Remember, the actions of your customers speak volumes about your user experience. Analyze these actions, and you'll find out if your touchpoints are able to meet their goals or not. Based on these findings, you can change your customer journey map.
5. Optimize the Customer Journey
Once you know if your customers are meeting their goals or not, you can start optimizing your customer journey. Start prioritizing the touchpoints and begin optimizing the ones that are critical for the successful completion of your customer journey.
By implementing the changes, you can start improving your customer journey and help customers accomplish their goals. After making all of the required changes, you should start monitoring your customer journey again from scratch to optimize it even further.
Final Thoughts
As a business owner, it's important for you to understand your customers and provide them with a highly relevant and valuable shopping experience.
For this, it's essential to track all important metrics in your customer journey. First, you must define the different stages of their journey and the goals they have for each of these stages.
It's also critical to identify the touchpoints for each stage to understand where you can make improvements. You also need to check if your customers are reaching their goals and then optimize the customer journey based on those insights.
What are the other ways to track the customer journey? Let us know in the comments below.