Content marketing is a powerful mode of promoting your brand. In fact, it generates nearly three times more leads than outbound marketing. The cost of doing content marketing is almost 62% less than outbound marketing as well. However, if you do not build a solid content marketing funnel, you may not get the desirable results.
Here's what you need to do you to create your very own B2B content marketing funnel.
1. Top of the Funnel (ToFu) – The Awareness Stage
The first stage in a B2B content marketing funnel is the awareness stage. In this stage, you need to focus on creating educational content for your audience to attract them to your brand. This content is aimed at building brand awareness and driving website traffic.
Some of the best forms of content that you can use in this stage are blog posts, infographics, guest posts, etc. In fact, nearly 73% of B2B marketers say that blog posts are the most effective at this stage.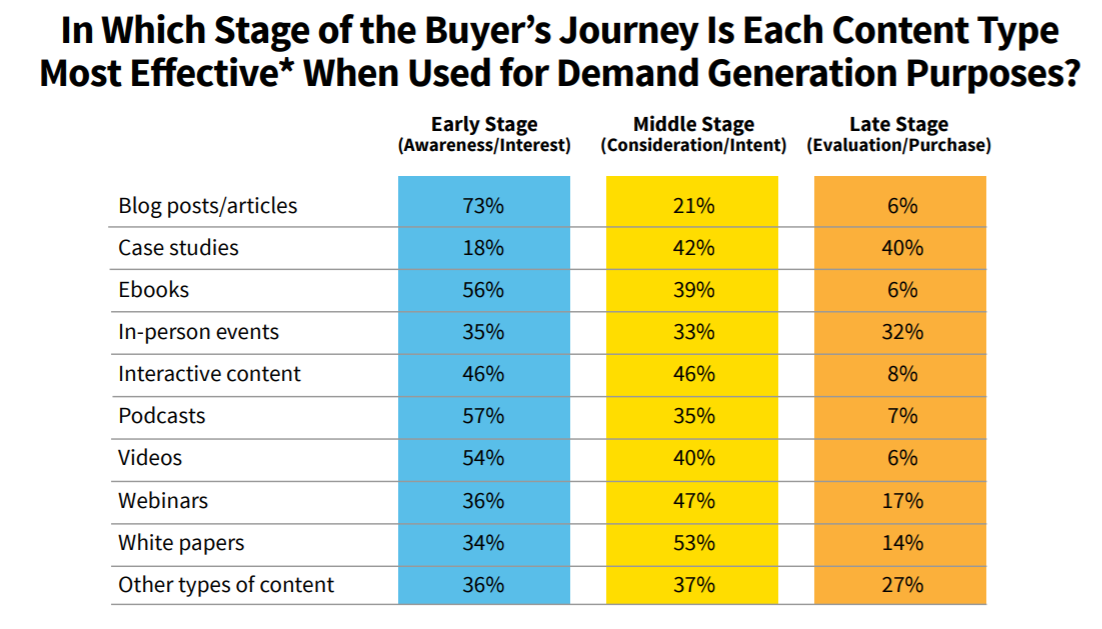 Image via Content Marketing Institute
2. Middle of the Funnel (MoFu) – The Evaluation Stage
After the awareness stage, your prospects move to the evaluation stage. In this stage, they mainly evaluate your business and your products. So, your goal should be to help them learn more about your brand and your products.
The best way to help them do so is by creating information that they can access freely. Your content should be able to build their trust and prove your authenticity to them.
The best content for this stage is whitepapers. They help build your brand's credibility, and about 53% of B2B marketers say they are the most effective form of content at this stage. The other types of content you can use here include podcasts, guides, checklists, etc.
3. Bottom of the Funnel (BoFu) – The Purchase Stage
The last stage of a B2B content marketing funnel is the purchase stage. At this point, your goal should be to convince your leads to buy from you. The content that you create must clearly showcase your value proposition and help close the sale.
That's why content that shows how others are benefiting from using your products or services works very well here. Some of the best content formats in this stage are case studies, trials, reviews, etc.
B2B Content Marketing Funnel Best Practices
You must focus on creating content for your audience. Put their informational needs first and determine the type of content you need to create. It's crucial to come up with more informative content rather than being sales-oriented.
It also helps to divide your audience into different buyer personas and create a separate funnel for each of them. This will help you create content that's more relevant for them.
Lastly, analyze your funnel's results through UTM parameters, social media analytics, customer feedback, etc. and modify your approach. This will help you optimize your funnel and get better results.
To understand more about a B2B content marketing funnel and to learn more best practices, check out the infographic below: